Introduzione Omnis Studio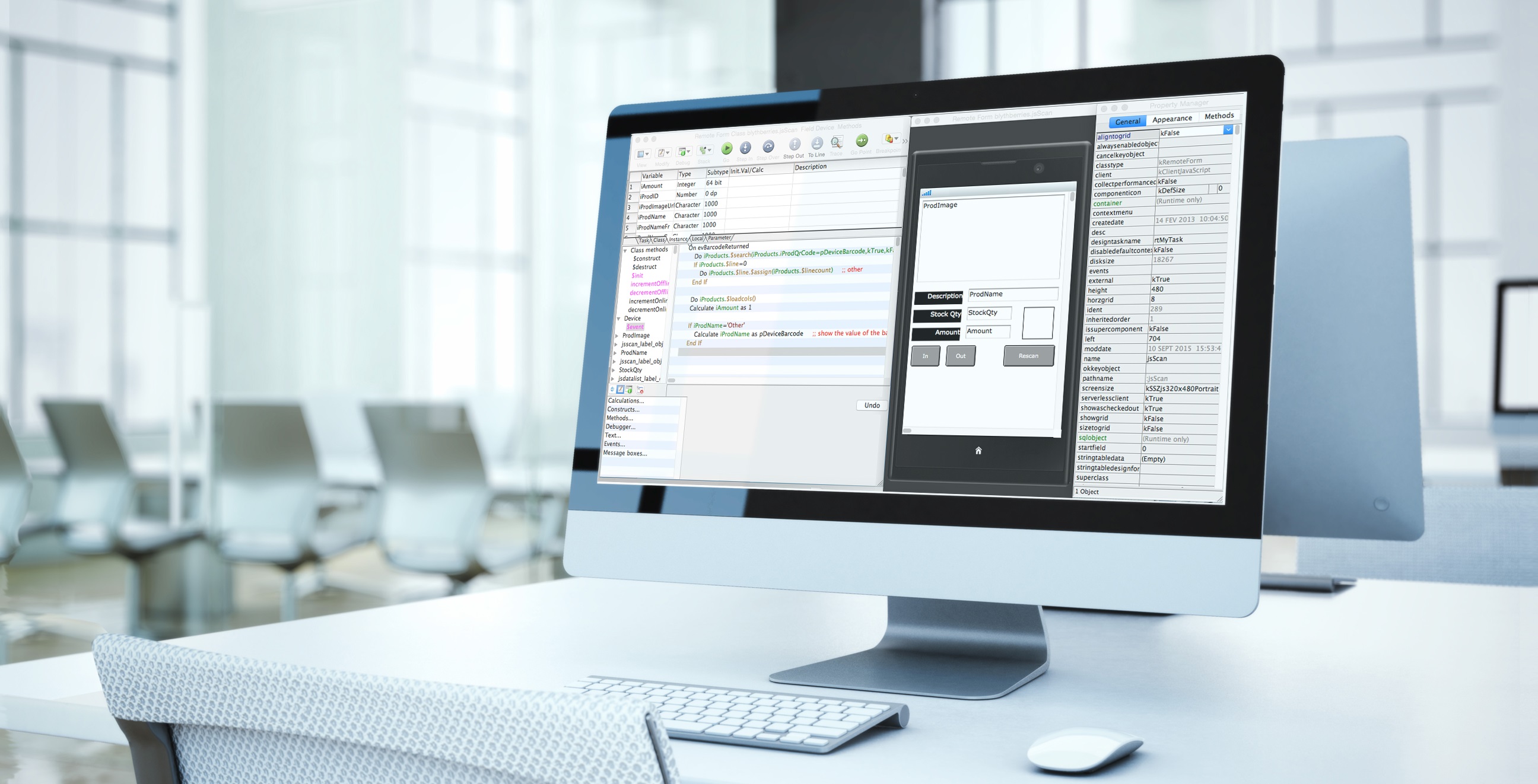 Omnis Studio 8.1
Monday, August 21, 2017
We are pleased to announce the availability of the new release Studio 8.1, GIT and JavaScript Control integration brings Omnis to a new generation of developers.
This latest release brings the benefits of developing apps in Omnis Studio to a whole new generation of developers, and vastly increases the richness and capabilities of your Omnis web and mobile apps. Omnis Studio version 8.1 allows developers to upload and share their libraries on GIT, enabling them to reach a larger audience on the popular code sharing site while bringing the benefits of using Omnis Studio to a wider developer community.
The release also lets you take widely available JavaScript Controls and add them to your Omnis libraries and projects, increasing the richness of the Omnis UI and opening up the Omnis IDE to new JavaScript component developers.
Studio 8.1 also includes a brand new interactive tutorial, called Welcome to Omnis, in which developers can create a simple web or desktop app, designed to introduce Omnis to more application developers and business owners.
Enhancements in Omnis Studio 8.1 further include the ability to send Push Notifications to clients, making your mobile apps more engaging and interactive for end users.
Plus web and mobile forms can now be fully responsive, with tightly defined layout breakpoints, allowing you to cater to all devices and platforms from one single application code base.
And we've added a "headless" version of the Omnis App Server to this release, allowing you to deploy your web and mobile apps easily and seamlessly on a wider range of Linux server configurations.
This release contains numerous more enhancements and fixes aimed at enriching the application development experience, and making it easier and quicker to create and deploy enterprise, web and mobile apps to all markets.
A complete guide to all the new features in Omnis Studio 8.1 is in the "What's New in Studio 8.1" doc (Whatsnew81.pdf), available to view or download with the new release.
Try it for yourself
You can try out all the new features in Omnis Studio 8.1 by downloading it from our website and registering for a free 90-day trial: Try Omnis Studio
Upgrades for Existing users
Existing users currently on the Omnis Developer Partner Program (ODPP) can upgrade to Studio 8.1 free of charge: new serial numbers will be emailed to you following the release. Omnis developers not on a support program can upgrade to this new version by contacting their local sales office
Omnis Studio 8
Wednesday, March 30, 2016
We are pleased to announce the availability of the new release of Omnis Studio version 8.0, which introduces important new features and capabilities for web and mobile applications. Omnis Studio 8.0 improves the ability of the environment to development Omnis JavaScript Client to make it more productive and efficient in building applications. In addition, the porting has been completed for running 64-bit Omnis on all platforms, and made further improvements to support the work of the developer.
Key New Features:
64-bit and Cocoa support for OS X
The 64-bit version of Omnis Studio is now available on OS X including the SDK, App Server, and Runtime. Plus the Omnis core has been rebuilt using the Cocoa framework with anticipated benefits for speed and performance in the Omnis Studio IDE and for your OS X and iOS deployed apps
Developer Hub
a new option in the Studio Browser that provides useful information for developers, such as the status of the most recent reported and fixed faults, together with information and tips for new Omnis developers; there is an Options setting in the hub to configure the content of the Studio Browser and the color theme used in the Studio IDE
Code Assistant and Method Editor enhancements
The Code Assistant is a new tool that will help you write code in an Omnis method. The code assistant will pop up automatically in the method editor when needed displaying command syntax and possible arguments; you can also request help using Ctrl-Space. In addition, the start and end of any block commands are highlighted (includes If , While, For, Repeat, Switch, and Begin), plus Omnis now stores a 'history list' of visited methods which you can navigate using a Back and Forward button on the method editor toolbar.
Color Themes and Appearance
The colors and themes used in the Studio IDE can now be changed under the Options setting in the Hub in the Studio Browser, or by changing the $appearance Omnis preference in the Property Manager: the colors used in the Studio IDE are stored in an 'appearance.json' file which you can use in your deployed apps, and you can create your own themes
App Builder
a new tool that appears when you select New Library in the Studio Browser to help you create Omnis apps quickly and easily; the new tool provides a number of templates and steps you through the process of creating or prototyping an Omnis application, including logging onto your database, creating JavaScript forms, setting the theme, and choosing navigation for your app
Other Enhancements Further features have been added to Omnis Studio 8.0 to enhance application development and the end user experience for your web and mobile apps.

HTML Components for Desktop Apps
you can enhance and enrich your desktop apps by adding HTML or JavaScript based components to thick client windows.
High Definition Displays
With the introduction of Retina displays on Mac desktops and laptops, and 4k displays widely becoming the standard for Windows based computers, support for high definition displays has been introduced in Omnis Studio 8.0.
Auto Updates
You can now perform updates or any other changes to your Omnis application or folder structure upon restarting Omnis.
Worker Objects: Push Connections
Support for Push Connections has been added to Omnis Studio to allow more control when data is returned to the client when using the Omnis worker objects, such as the SQL Worker objects