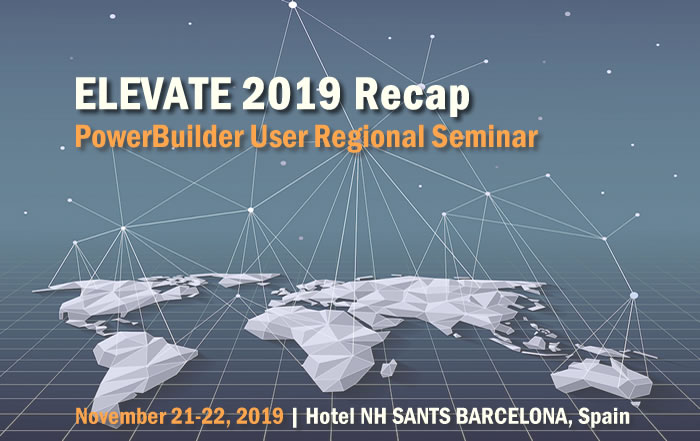 Please fill the form below to register
PowerBuilder User Regional Seminar 2019 – Barcelona, Spain
21 November 
Opening Sessions: Elevate 2019 conference keynote recap along with technical demos of key new features in PowerBuilder 2019.

22 November
Technical Sessions: Deep dives into the key new features of PowerBuilder 2019 and PowerServer 2019.  These sessions are a combination of lectures and exercises that are illustrated with code samples and working applications.  Recommended audience is PowerBuilder developers.

AGENDA
The Seminar will be mostly in English, including the opening and the technical sessions; nevertheless some bilingual (Spanish/English) sessions will be planned as well.
If you happen to be in Europe and couldn't be able to join the Elevate 2019 US conference, we'll be happy to meet you in the beautiful Barcelona to get the latest updates about Appeon products and to improve your apps, your skills and your contacts.
Please fill the form below to register
Time
November 21
9.30
Registration and Welcome Coffe
10.00
Opening: introduction and agenda (SoftPI)
10.15

Rapidly Embracing an API World with DataWindow Technology (Armeen Mazda, Appeon CEO)

You will learn about how PowerBuilder 2019 R2 will accelerate your move to an API world, including a look at the next generation of DataWindows for an API world, rapid scaffolding of .NET projects with DataWindow technology and the new SnapDevelop C# IDE, and new business logic conversion tools that accelerate your migration to APIs and C# language.

11.00

Technical Demo: Rapidly Embracing an API World with DataWindow Technology
(Marco Meoni, SoftPI )

Using a beta version of PowerBuilder 2019 2, you will see how to rapidly scaffold a C# API for .NET Core (cross-OS) framework with DataWindow technology in less than 120 seconds and how to automatically convert 80-90% of existing PowerScript business logic from the client-side to APIs and C# language.

11.45
Q&A
12.05

New PowerScript Features in PowerBuilder 2019 R2 & R3
(Armeen Mazda, Appeon CEO)

PowerBuilder 2019 R2 is currently in beta and scheduled to release in March 2020. You will learn about the big advances made in features for PowerScript desktop apps, including enhanced UI themes, new ribbon control, new Web browser control, 64-bit RichTextEdit control, natively calling C# DLLs from PowerScript, 64-bit PowerScript debugger, security enhancement for runtime DLLs, and expanded compatibility with Windows OS and database.

12.35

Technical Demo: Rapidly Modernizing Your UI & Deploying to the Cloud
(Marco Meoni, SoftPI )

Using a beta version of PowerBuilder 2019 R2, you will see key new features for PowerScript to modernize your application UI with minimal coding using enhanced UI themes and new controls (ribbon and Web browser controls). Also, you will get a sneak peak of PowerServer 2020, which is the fastest way to deploy PowerScript client/server apps to the cloud.

12.55
Q&A
13.15
Lunch

14.30 

/

16.30

Double Sessions (Spanish/English)

Latest news for PB companion tools (Christophe Dufourmantelle, CEO, Novalys)
Generate E/R Diagrams from PB and DB code, add modern Charts, Dashboards and Drill-down features to your PB UI, Testing Automation for PB 2019 and Strong Authentication for PB apps.

14.30

/

16.30

Double Sessions (Spanish/English)

Exploring the future with powerserver web (Javier García Martín, Juan Pedro Sanz Díez, Gundación Laboral de la Construcción)

16.30

Partner's Success Story (English Only)

SVN, Autocompile, Testcomplete, DROPBOX, JIRA, PowerBuilder application lifecycle, Giuseppe Moglia, Chief Technology Innovation Officer, SATA Consulting

PB Open, Gian Luca de bonis

17.30

Appeon and Softpi, Q&A

18.00
End
Time
November 22

09.00 / 18.00

C# for PowerBuilder developers: a gentle introduction 
——————————————————–
With the introduction of the new breakthrough C# Web API, PB developers will have to learn at least the very basis of C#. This session introduces the C# language in simple steps. A number of code snippets are discussed, showing how everything is wrapped in classes and what are the common differences with PB syntax. The session outlines pitfalls and caveats that are usually encountered while moving the first steps into C# Web API.

PowerServer 2020 sneak peek 
——————————————————–
This tutorial overviews the upcoming PowerServer 2020 Web and Mobile. It walks through all new REST features with code examples showing OAuth 2.0, DW retrieves & updates against REST Web API, handling of complex JSON resultsets, merge multiple DWs for faster network performance. It also shows how to perform encryption, digital signing, and encoding of data for secure transfer between the PowerServer client and the server. It additionally presents how to compress and decompress filesystem objects or data streams in many formats.

C# Web Services Development with SnapDevelop 
——————————————————–
The new PB C# Web API feature offers the perfect scenario for supplementing large PowerServer-enabled applications with full fledged .NET Core and C# REST API. This tutorial will show step-by-step how to use C# DataStore, implement service and controller, and make CRUD operations from PowerBuilder or PowerServer using their REST features.

 
Lunch

C# REST API and PowerServer 2020 integration 
——————————————————–
PowerServer is a well-established technology for moving your PB applications to n-tier architectures. With little effort, PowerScript goes Web and Mobile. However the target application leverages Javascript: complex business logic may need robust and scalable server-side components. This sessions describe possible scenarios where PowerServer and C# Web API can coexist and make applications to get the best from both architectures. 

18.00

End
The November 21 Seminar is free, offered by Software Products Italia (www.softpi.com) and Appeon (www.appeon.com). For organizational reasons registration is mandatory. We'll also be happy to schedule one-to-one meeting with companies willing to discuss theis specific needs or just ask questions regarding PowerBuilder and Appeon solutions.
The November 22 Technical Sessions cost  €170,00/person. It's possible to register to the Conference only, or to the Tech Course only, or to both.
ANNOUNCEMENTS
On the evening of Thursday, November 21, after Recap PowerBuilder 2019 conference  (which is offered by Softpi and Appeon, including the business lunch, all free) we organize an informal and non-work dinner at a restaurant in the center of Barcelona. For those wishing to participate [and we would like very much] the price of dinner is:
     Zero: FREE for those who register for the course of November 22, no later than September 15th.
     15 Euro: SEMI-FREE for those who register for the Conference from November 21 (and is not enrolled in the course, otherwise it is free, see previous point) no later than September 15th.
     30 euros: for those who register after September 15th
Also: if you register in advance you do us a favor … help us better organize the event!
For more information and details: SOFTPI – email – www.softpi.com
Please fill the form below to register to the Seminar (November 21) and/or the Course (November 22):