On March 5, 2021, as an Italian member of the International Association of Microsoft Channel Partner, Softpi participates with a representative in the "Microsoft 2021 new challenges and opportunities".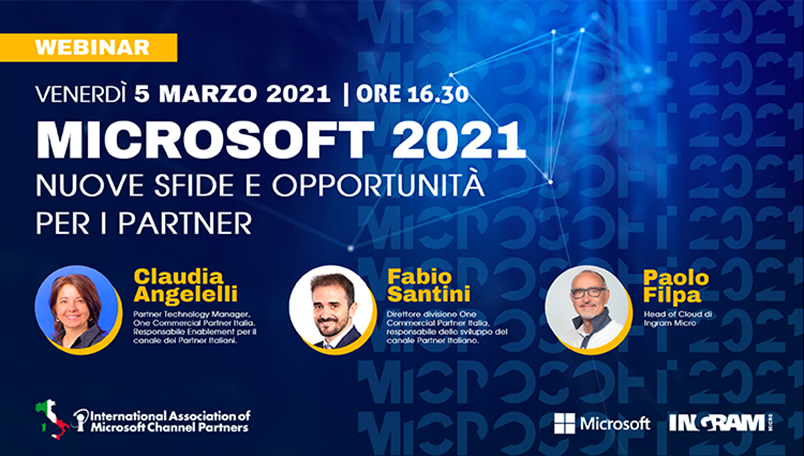 Interacting and cooperating is our business approach. The members of the AMCP are ITC operators, people who passionately dedicate their time to partnerships, even beyond purely working reasons. With Microsoft and its technologies we want and must confront ourselves in many ways, every day.
Content
What are the new challenges and opportunities that open up to overcome an economy conditioned by years of stagnation aggravated by the coronavirus?
How do Microsoft partners become leaders in the digital revolution that customers need?
We will talk about it on March 5, 2021, at 4.30 pm on Microsoft Teams, with Fabio Santini and Claudia Angelelli – of Microsoft One Commercial Partner Italia – who have identified in the Microsoft Viva platform the tools to help business in companies, and with Paolo Filpa – of Ingram Micro Italia – which proposes organizational and training interventions necessary to become the engine of change.
If you are a Microsoft Partner you cannot miss this important appointment. Sign up now!
Below is the agenda:
16.30 | Welcome! Introduction to the event. – Speaker: Fabrizio Benvenuto, IAMCP President
4.45 pm | The opportunities in the Italian market and how to seize them together. – Speaker: Fabio Santini, Director of the One Commercial Partner Italy division, responsible for the development of the Italian Partner channel.
5.15 pm | Partner Skilling: why it is important to increase the business. – Speaker: Claudia Angelelli- Partner Technology Manager, One Commercial Partner Italy. Enablement Manager for the Italian Partner channel.
5.45 pm | Tips & Tricks: how to profitably move in a constantly changing scenario. – Speaker: Paolo Filpa – Head of Cloud Ingram Micro Italia