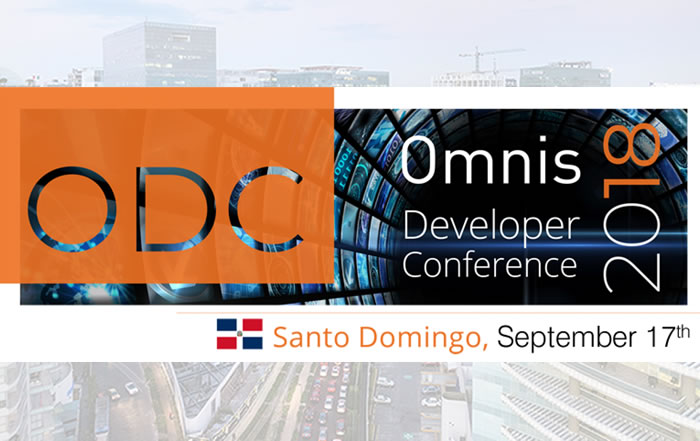 Santo Domingo, September 17th, 2018, Omnis Developer Conference and Business Applications

Purposes
New Omnis Studio technical features and future development

Desktop, web and mobile applications developed by OMNIS STUDIO, very useful to improve and make efficient business management.

Establish contacts to learn more about the applications and / or startig with new applications development projects.
To register please complete the form at the bottom of the page
September 17th

Omnis Conference and Business Applications

14H30

Participants registration and materials delivery

15H00

Welcome and general instructions

15H15

Overview of Omnis Studio in the world, future versions.
Questions and answers


15H45

Local Applications

Presentation of app Rohi Financial, ERP oriented to companies of Solidarity Economy, Candemar Group.
Questions and answers.

16H15

Cheers

16H30

Local Applications

Presentation of GlobalMardom app of the Dominican Maritime Company.
Questions and answers.

17H00

OmnisCRM App Customer Relationship Management.
Questions and answers


17H30

Business opportunities.

18H30

Refreshment

19H30

Set up meeting to visit companies.

20H00
Closing.
The Conference is free of charge and offered by Software Productos Italia www.softpi.com/es and Omnis Software www.omnis.net.
Nevertheless, it's mandatory to register as soon as possible for planning reasons.
We'd like to extend the invitation to all our partners and their customers, and to all those companies interested in Omnis and DBMoto solutions.
GENERAL INFORMATION AND ORGANIZATION
José Murgueytio – SOFTPI Latin American Countries Sales Representative – josem@softpi.com – www.softpi.com
LinkedIn: https://ec.linkedin.com/pub/josé-murgueytio/69/2b6/3
Mobile: (+) 593 997378735
Skype: jmurgueytio1
Quito – Ecuador
Para inscribirse en el evento llene el formulario: