Camì has a long solid experience in the International Technology field with a wide range of software solutions for large retailers, distribution companies and supermarkets.
Camì products & services provide a solid support to any business area, such as front office and back office management (including self-scanning and self check- out management), accounting, business intellingence, statistic-analisys and much more.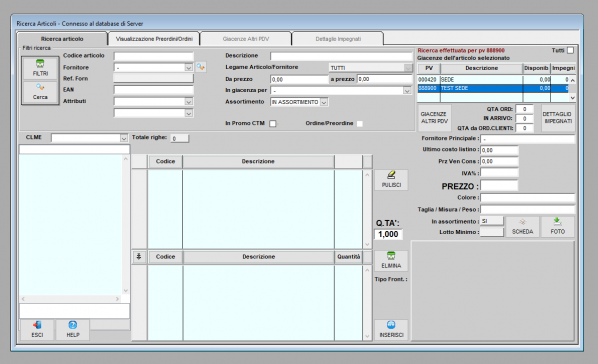 All the software solutions are totally independent of the Hardware platform and run virtually on any terminal. The major characteristic of the software environment is to be open, i.e. independent of the underlying operating system, assuring therefore efficient functioning with Windows, Linux and Mac os. Camì solutions support all the most popular database servers including SQL Server, Oracle, Vertica, Postgres, Sybase, Mysql, Berkeley DB, IndexDB.
Moreover the Mobile applications allow users to manage the system using mobile devices both on and off-line.
Camì uses Omnis Studio to develop a lot of flexible and configurable software solutions which are designed to meet the specific needs of customers.
Camì software are installed in many leading retail & distribution companies and supermarkets in Italy, in France and in other European Countries.
Camì also provides installation support and 24 hours assistance.
The most important customers are:
MAXI DI' (www.maxidi.it)
SUPERMERCATI TOSANO (www.supertosano.com)
ALI' (www. aligroup.it)
L'ABBONDANZA (www.labbondanza.it)
PITTAROSSO (www.pittarosso.it)
MEGAMARK (www.megamark.it)
SME (www.sme.it)
CODE' CRAI (www.crai-supermercati.it)
Michele Grande, Camì CEO said: "We use leading technology tools such as Omnis Studio to develop our software because it allows us to pay special attention to quality and performance"
ABOUT CAMI'
Founded in Turin in 1991 by Michele Grande, the company, called at the beginning GB Informatica, transferred its head office to Como in 1991.
Over the years the company has developped its services and products including not only commercial software in general but also specific applications for large retailers and supermarkets.
Camì was founded in 2000 and today it counts more than 75 employees, 7 offices in Italy and more than 1.500 installations with 11.000 checkout counters and is now one of the leading Companies on the Italian IT market.
Passion, Innovation and a strong synergy between technology, people and services enable Camì to meet successfully the challenges of the future.
Produttore: Camì Informatica
Further informations: +39 031 3109154 – Como
Sito Web: www.camisoft.it